Dr. Gordon Gray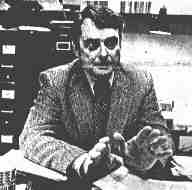 Retired SCAT Professor

The following is republished from the December 1997 Newsletter of the Broadcast Pioneers of Philadelphia. Paul Norton, the newsletter's editor, gave his kind permission for the article's usage. Paul, by the way, is well-known in the area for his many years at WPVI, Channel 6.

Gordon Gray, former VP of local Broadcast Pioneers, now retired and he and his wife have occupied themselves with restoring a historic house in New Castle, DE. That job is pretty much done now. He says a lot of movies are shot in New Castle and he has observed the recent Oprah Winfrey-Danny Glover vehicle that was shot there. Having had both knees replaced some time ago, he discovered on a recent trip that walking around Spain is all up hill.
Article submitted to this site by Mike Muderick.
Anyone with additional information about Dr. Gray, please let us know.
From Gerry Wilkinson....I spoke on the telephone to Dr. Gordon Gray on Monday evening, January 26, 1998. He seemed in good spirits and I invited him to join our little group. He said that when he left SCAT a couple of years ago he had left drawer after drawer of items about Temple and WRTI. We will see what we can do about tracking them down.
From Gerry Wilkinson....On April 10th, I talked with Linda Chorney with the School of Communications and Theater. Several months before, I asked her to research where the items Dr. Gray mentioned (above) were stored. On that Friday, she informed me that no such storage of any material from Dr. Gray, Dr. Dusenbury, Dr. Blenheim or Professor Roberts currently exists at Temple. What happened to these files, she did not know. On an entirely different note, the April 1998 issue of the Broadcast Pioneers' Newsletter mentioned that Dr. Gordon Gray has reached the 50th year of broadcast and broadcast related activity.
The following information was obtained in the Conwellana-Templana Collection in the Samuel Paley Library at Temple University....
Gordon L. Gray
Professor of Communications and Chairman of the Department of Radio-Television-Film
B.A., 1948, Cornell College; M.A., 1951; Ph.D., 1957, Northwestern Univeristy
Dissertation: "Television and the National Nominating Convention of 1952"
Previous teaching: Northwestern University, Michigan State University
Joined Temple faculty: 1967

In an University PR piece issued October 29, 2978, Dr. Gray said, "In 1967, there were 100 undergraduate majors. This year there are 1200. During this time there was very little increase in the number of jobs in radio and television.... Our students get a lot of hands-on hardware experience, but knowing how to use the equipment is not all. The camera and the microphone are to RTF students as paint and brushes are to an art student...."

This is the WRTI Old Gang Web Site!