Mike Muderick Memories
Misc. Memorabila

Item #1 - The WRTI Mike Flag (Name Plate)(this went around the RCA 44-BX microphone).
From an e-mail to Gerry Wilkinson to Mike Biel (referring to the picture of Marlene Patrick and two male staff members)....Was that picture taken in Studio D, or did they take a 44-BX out to the traffic table which was right outside Studio D? That looks like the mailboxes in the background, but there was a window in D that looked out towards there. That probably is the Studio D mic since it has so many dents in it. It probably also was the source of Mike Muderick's mic flag. I don't seem to recall there being any "extra" mic flags around . . . . And Mike always did have a small screwdriver in his shirt pocket . . . Hmmmmmmmmmm . . .

Item #2 - The WRTI Sports Jacket Patch
Item #3 - The Top of the WRTI/WRTI-FM Program Log.
- WRTI-FM Lapel Pin from circa 1967.
- 2 Different WRTI-FM Pins, 3 decades apart.
- Entire Contents of the Dedication Booklet of the Temple University Radio Studios. Dedicated to the training of personnel and the development of research for Educational Broadcasting and the Radio Industry. Thomas Hall - January 22, 1948. The current management of WRTI has lost sight of its orginal, stated purpose, it seems.
- Early 60's WRTI (AM) Letterhead.
- Mid 60's WRTI (AM) Letterhead.
- Late 60's WRTI-FM Letterhead.
- A Ticket to the 1968 WRTI Annual Banquet.
Original was unreadable. Photo enhancement has made it legible, but quality has suffered.
- 1968 WRTI Annual Banquet Cover (in B&W)
- Mike Muderick interviews Bill Cosby. This photo dates from April 8, 1967. (left to right are) Pat McKeown, Temple University News; Mike Muderick, WRTI; Bill Cosby and News Director Jerry Grove, WIBG.
- A recreation using HTML of the 1966 WRTI Annual Banquet.
- Temple News article about WRTI and some of our programs. October 24, 1967.
- Temple News article about Harold Thomas retiring, January 29, 1973. This is a clear-cut case of age discrimination. The story says that Harold was asked to retire because of his age. Under current laws, this would be illegal. Sue them, Harold. I can recommend a couple of good lawyers. "They know who you like."

Mike Muderick has offered to send any of the Old WRTI Gang a FREE WRTI strobe disc sticker (you remember those ones that stick on records). They are self-sticking.
They look like this.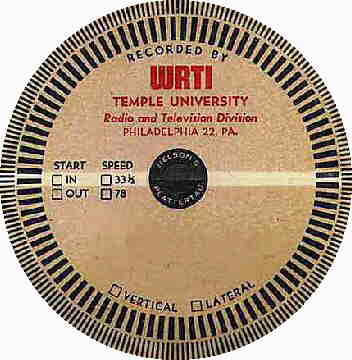 All Mike asks is a SASE. E-mail Mike for his address.
View an actual size scan of the WRTI strobe disc

From Mike Muderick....Last time I was in Thomas Hall, about a year or two ago, all the studios were locked. I could only walk through the hall basement. But it was really eerie. I kept hearing these voices yelling "Zheeeee," "Skeeacky One Stop , get your records here," and "I know who you like.".....Weird.

This is the WRTI Old Gang Web Site!