Professor John B. Roberts
Retired SCAT Professor, a Conversation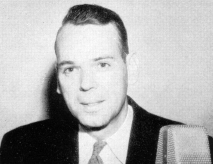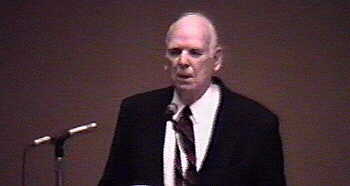 On Wednesday, January 20, 1999, Gerry Wilkinson had lunch with John Roberts and Bill Seibel at the monthly meeting of the Philadelphia Broadcast Pioneers. Read Gerry's comments and observations.

The following is written by Gerry Wilkinson....On Friday, April 24, 1998, I had another conversation with Professor Roberts. He had some computer problems but now everything is okay. But he is still not on the Internet.

The former Channel 6 newscaster mentioned "that the Mrs. was not feeling too good, and he hoped it was nothing serious." We hope so, too.

John B. Roberts said that he may have some of the old program guides from WRTI and would see that we get copies or could borrow the original to upload material for our site. Talking about old times, he mentioned the names of several more WRTI alumni for us to try to locate. On some of them, he supplied me with the last phone numbers that he had. We'll try to track them down.

The founder of WRTI, John Roberts, claimed he and his wife would be delighted to attend our WRTI Reunion/BBQ on May 24, 1998. We'll be happy to see his face in that place.
The following is written by Gerry Wilkinson....On Sunday, December 21, 1997, I had a most pleasant conversation with an old Professor of ours, John B. Roberts. He has been retired from Temple University SCAT for about ten years, and seemed in very good spirits. His health, he says, is just fine and plans to be on the Internet in the next month or so. I invited him to participate in the site and he said that he would be happy to do so. He has two computers, but no Internet connection.

Professor Roberts was delighted to hear in our interest in WRTI, because he was the founder. I mentioned that we have pictures of many of the old gang...and pictures of him. Even audio of him. For those of you that have been to Jerry Klein's Real Audio page, you know that Professor Roberts had given both Mike Muderick and Jerry Klein a "B" grade which they chided him when those three appeared on the WRTI 40th Anniversary broadcast in 1993. I got the same. He also gave me a "B." I, too, mentioned that I wasn't too happy with only a "B." He recalled that the reason for the tough grading was the fact that some non-SCAT students thought that R-T-F courses were a "snap." They decided to grade the Radio, TV and Film courses on a stricter standard than Chemistry or History. Thanks alot. We all appreciated the high standards, right? NOT!!!! He mentioned that I (and Jerry Klein & Mike Muderick) should be proud of the "B" as it was a very high grade given to only the best students. However, he said, there were a few "A's" but not many. Anybody out there ever get an "A" from Professor John B. Roberts? E-mail us and let us know.

"The Channel 6 Newscaster" has reported that former Dean of SCAT, Doug Perry, who I had the priviledge to have for 4 different classes, passed away some time ago. Perry was a professor in Journalism before becoming Dean. And for any of you who ever had Dean Perry, I echo his words, "What is a feature?" Plus, Joe Carter from SCAT also has passed away. Dr. D, Delwin Dusenbury lives in Wynnemoor, PA, but has been quite ill recently. Bill Seibel also lives up that way, and he's doing okay, as is Jackie Steck, former Professor of Journalism at Temple SCAT.

He says that most of his WRTI memorabila was donated to Temple University along with about 5,000 books dealing with Communications. Moving about four years ago, he now lives in a ranch style house. When I called, he was just dragging in a Christmas tree, and he said that he was glad I called...."I could use a break."

You may find it interesting to know that Professor Roberts has kept a file on all of us. Sort of Big Brother is watching you.... Whenever he would hear of one of us getting a job or promotion, he would enter it on a 3x5 card and file it away. He's not sure if the file still exists...but he's checking.

He kept telling me about computer deals and his Gateway computer....so why isn't he on the Internet?

It was a pleasure to speak with him and I truly hope that he will be joining us on our continuing stroll down memory lane on this web site.
GRADES FROM JOHN ROBERTS....
Jerry Klein......................B
Mike Muderick................B
Gerry Wilkinson.............B
Roger Wood...................B
Mike Biel.............................
I believe that he taught my intro to TV course RTVF 170, and I got an A. He gave me Bs for 157 TV & Radio Program Planning and Building, and 148 TV&R News.
Send in your grade from any John B. Roberts Class? Anybody ever get an A, besides Mike Biel?
From Mike Biel....By the way, speaking of embarassment and classes, seeing that video clip of John B. Roberts (a test version) just now reminded me of a story I have been meaning to tell.

As you recall, we were waiting for the "New Building" throughout our entire college career. John B. had shown me the blueprints in 1963 when I was still in high school deciding on which college to attend. I watched in the spring of 65 the old row houses be torn down from my first dorm room, 205, which faced that direction. We watched the hole being dug, and the walls come up. Then finally in the fall of 67 they opened the offices. But the only studio or classroom that could be occupied at all during my entire four years was the viewing room over the smaller TV studio, the one towards the radio station wing side of the building. During my last semester, Spring 68, Roberts taught the Newscasting class there.

That viewing room had 5 or 6 rows of steeply stepped auditorium seats facing a floor-to-ceiling window which overlooked the control room which overlooked the studio floor. Because the studio itself was not yet functioning, the lights were usually off or very dim in there. We had nice warm weather that Spring, and that also was the year that the mini-skirt had first entered the fashion scene. Somehow that latter subject had come up as class was breaking near the end of the semester, and a bunch of us were joking with John B. With that great characterestic half smile you see on that video he winked at us guys and said "You should see the view while I am teaching class." And then WE said, "We KNOW the view, because that glass wall behind you gives us the same view. You thought all this semester that we were looking at YOU during the class?"

Remember guys, that building was designed by John B. Roberts!
Roberts' remarks from the Broadcast Pioneers' Luncheon
The following information about Professor Roberts was obtained in the Temple University Conwellana-Templana Collection of Samuel Paley Library at Temple University....
John B. Roberts,
Professor of Communications
A.B., 1940, New York University; A.M., 1941, Sate University of Iowa
Thesis: "The Speech Philosophy of Clarence Darrow"
Previous teaching: University of Maine
Joined Temple faculty: 1946

In an University PR piece issued on October 19, 1978, it said, "...In describing John B. Roberts, professor of communications and the initial mover and shaker of the department, Dr. Gray called him, 'the Grand Old Man of the department, with emphasis on the Grand...." Talking about the beginnings of WRTI, it said, "There were no facilities on campus that were not being used. The only place available was the basement of Thomas Hall. It didn't have any windows and no one else wanted it... So that became the home of the department's studios...," commented the veteran broadcaster (referring to Roberts). When this building (Annenberg Hall) was designed, it was not designed to be a school, it was to be a communication center for people in broadcasting, journalism, film and theater. "I got the idea for a building, drew up the initial blueprints for it and took them to the dean, who approved them. "I had worked with Walter Annenberg for 25 years and knew he was interested in giving money, and to top things off Walter liked me," added Mr. Roberts. Eventually the State gave the building and Walter Annenberg equipped it. Mr. Roberts was asked to design the interior of the building and to select all of the equipment...."

This is the WRTI Old Gang Web Site!