Return to "WRTI Memorabilia" Page
WRTI MEMORIES
from
MERRILL REESE's AUTOBIOGRAPHY:
"IT'S GOOOOOOD!"
---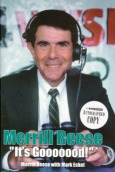 Merrill Reese, the radio voice of Philadelphia Eagles football since 1977, is a WRTI alumnus. In 1998, Reese published his autobiography, "It's Gooooood!," co-authored with Mark Eckel. (The book -- ISBN: 1-58261-000-2 -- is available from the publisher, Sports Publishing, Inc., and from Amazon.com as well as most bookstores.)

Parts of his book deal with his experiences at WRTI and with people he met at WRTI. Merrill has graciously given us permission to post excerpts and photos from the book, so here they are. (The rest of the book is just as interesting, maybe even more so depending on your interests. We hope you support a fellow WRTI alum and go out and buy a copy! Merrill tells us the first printing is just about sold out [as of December 1998] and that the publisher is getting ready for a second printing.)
---
From Chapter Three
Me and the Coz
Like the slogan says, I could have gone anywhere, but I chose Temple.
Seriously, my father had died suddenly my senior year of high school, and I really didn't want to go too far from home. Temple had a good communications program and that was what my major was going to be. This was my career path; I wanted to be a broadcaster. Specifically, I wanted to be a sportscaster.
Communications was becoming a popular major and I was one of a large class that year at Temple. We all came in with stars in our eyes. We were all going to be the next Bill Campbell, or the next By Saam, or so we all thought.
I did what I was supposed to do and tried to get on the student station, WRTI. There was both an AM station and an FM station at the time. The FM station, 90.1, you could hear throughout the city. The AM station was basically wireless and went to the dorms and that was about it. You left the campus and you were out of the range of the station. There were a couple of freshmen who were thought to be more mature and had more ability, and they would make the FM station. Of course, I was on the AM station.
I would come in every Wednesday with my box of 45 rpm records and introduce each record as I played them. What I really wanted to do was sports, but at least I was doing something. The sports director at WRTI-FM was a senior named Tom Cardella and I'm sure I followed him around enough and bothered him enough that finally late in the spring, tired of my nagging him, he let me do a Temple-Villanova baseball game. Truth is he probably couldn't find anyone else who wanted to drive all the way out to Villanova to broadcast a baseball game into a tape recorder. They didn't have what we call broadcast lines then.
So I brought my big, old, reel-to-reel tape recorder that weighed about 60 pounds and had all kinds of extension cords and I set up along the first-base line and got ready to do the game. And, of course, I was nervous as I could be. I was scared to death. It was my first chance to do a live play-by-play game. Temple had a pitcher named Don Flynn. And the first thing I said was, "I look down and I see Don Mound warming up on the Flynn." With that start I was off and running. There was no way I was going to miss.
But that got me immersed into the sports world. For some reason, Tom took a liking to me and let me do a sports show, and more and more games. By the end of my freshman year, I was named the sports director. Tom had graduated and I was his replacement. Years later, Tom and I remain close friends and he hosts both the Eagles pregame and postgame shows on WYSP.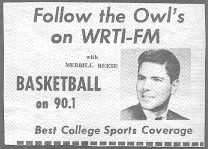 | | | |
| --- | --- | --- |
| | My first official bit of publicity - Temple University News. | |
That fall I had to get ready for Temple football. There was a pep rally that was being held at the Sullivan Library on campus and that was a good opportunity to get involved with the team. The cheerleaders were there, the band was there, and as the players were being introduced, they announced a fullback who got up and talked. And before you knew it this guy had the entire crowd in hysterics. He told outlandish stories and outrageous jokes that just had everyone crying from laughing so hard. That was the first time I laid eyes on Bill Cosby.
Bill was also a sophomore, but he was older. He had been out of school, in the military for a few years, and then came back to Temple. I remember I asked him that day if he would like to do a radio show with me. We could tape it Fridays, and it would air that night, and again right before the game as sort of a pregame show. We would call it the Bill Cosby Show.
Bill agreed and we did it every Friday. More times than not the show would end with me laughing uncontrollably as he would just take off on some story or another. We would always start off talking about Temple football and the upcoming game, but Bill would then go off in another direction and tell another of his incredible stories. He was just so funny. He didn't need a script, or writers. He was just naturally funny.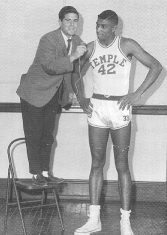 | | | |
| --- | --- | --- |
| | I needed the help of a chair to tape an interview with Temple star Jim Williams. The interview would later air on WRTI-FM, Temple's student station. | |
I broadcast Temple football and Temple basketball and anything else they would let me do. Ron Herman, who became a very good friend of mine, helped me with my practice broadcasts at South Hall and mostly carried the 60-pound tape recorder around for me.
My junior year, Temples basketball team began the season 7-0 and was about to play the University of Kentucky in Lexington. WRTI had never done a road game before, but we decided because of the magnitude of the game, both teams were in the top 10, we would try. I went to the Temple Alumni Association to see if we could get financing for the trip and they said sure. I mean this was a big game. And if we didn't go, it wouldn't have been heard anywhere in Philadelphia. There was no ESPN back then, no national college game of the week, and no commercial station did Temple games. So my first road trip was set.
I was excited. This was going to be my first time on an airplane. But it snowed the night before we left and all the flights were cancelled. So instead we boarded a train for what would be a 26-hour train ride to Lexington. The train actually killed a person on the way there, hit a guy crossing the tracks, and that delayed the trip even longer. My color analyst was Phil Jasner, who also worked for the Temple News. What I still remember most about that trip was when I saw Harry Litwack, the legendary Temple coach, shaking hands at the morning shoot-around with the Kentucky coach, Adolph Rupp, the all-time legend and "The Man in the Brown Suit." And he was in that brown suit.
It hit me then that this was a part of history, and that as a broadcaster you can also be a part of that history. Very few people got a chance to see this kind of thing this close up and there I was a part of it. Temple lost the game, and we flew home the next day. But if I didn't have enough inspiration for my dream already, being there in Lexington and broadcasting that game just added fuel to my fire. This was what I was going to do the rest of my life. No doubt about it.
In the communications major, there was more than just the radio station. We had to take courses like radio drama, which really doesn't exist any longer. But we had this course, and for a project I produced a radio drama called "Wings that Couldn't be Clipped", the story of the 1960 Eagles. Did I have a one-track mind? I had one kid play Norm Van Brocklin and another kid play Chuck Bednarik, and I, of course, was the narrator. It was probably the worst thing ever put together.
From Chapter Four
From Pottstown to WIP
When I finished at Temple and ended my career on the college station, I was ready to conquer the world. I quickly found out I couldn't conquer Coatesville, Pennsylvania.
After a tour of duty in the Naval reserves, I was anxious to fulfill my dream of becoming a broadcaster. I was loaded with confidence and sent out enough resumes, I thought, that I would have my pick of jobs.
In between, I stopped at every television and radio station in Philadelphia, but the result was always the same. I could not get past the receptionist's desk. I could not even get an interview, never mind a job. The best I got was an application form that probably went straight to a wastepaper basket.
...
As I was growing up every summer was spent in Ventnor, a small suburb just outside of Atlantic City where my mother and her four sisters shared a beach house. This summer I was down there again and an old friend of mine, Steve Berger, had a show on WOND radio that he did from a booth in front of the old Steel Pier. He was on every night from 11 o'clock to one in the morning. I would sit in the shore house every night and listen to the Phillies game on the radio and take notes. I'd also copy down all the rest of the baseball scores around the league. Then, every night at 11:30and 12:30 Steve would let me come on and give five minutes of sports news. My family thought this was my job, and I never told them I wasn't getting paid a dime to do this. I'm not even sure the station knew I was doing this. And if they did, what did they care? They were getting a guy to come on and do five minutes of sports and they weren't paying him.
That's how it went almost the entire summer. I would play tennis every day and try to get in as many tournaments as I could. I would listen to Phillies games at night and do my five-minute sports shows. Then I would go out to eat at an all-night restaurant called Sambo's with Steve and a friend of his, some guy named Gene Hart, who wanted to talk about hockey all the time. Gene continued to talk about hockey and became the legendary voice of the Flyers.
...
Jerry Rosset, another friend of mine who later became a producer at WIP and is now an attorney, heard about some job openings at WCOJ in Coatesville, a small town in Chester County. We got an appointment to meet with the owner of the station and drove out there on just a terrible, rainy day.We found the station, which was located on the second floor above a Pontiac dealership, and raced into the building and up the stairs.We were drenched. Jerry's glasses were fogged to the point he couldn't see, and he asked the receptionist if there were any paper towels. She pointed toward the towels a few feet away. Jerry stumbled over, reached down and picked up what he thought was a paper towel. Instead, it was one of those old mimeograph sheets of paper. I was not paying a lot of attention, trying to dry off myself, but I saw him wipe his glasses and his face with this paper and everything turned purple.
Now, the owner of the station, William Halperin walked out and Jerry reached out with his purple hand to shake hands with him. I was about ready to die at this point. As the two of them attempted to get clean, I went to audition in this booth. Halperin came out a few minutes after I was finished, and told me I wasn't ready and that I should start somewhere small. I wasn't ready for something this big, and he wasn't sure I ever would be. Jerry never even got an audition.
We walked back to the car, now oblivious to the pouring rain. If Coatesville was too big, what was smaller than Coatesville? Where should we go from there? Was it time to give up?
Ironically, about 10 years ago I was a speaker at a dinner to honor former Eagles coach Dick Vermeil, and at the end of the dinner, this little, older man came up to me and said, "Merrill, my name is William Halperin, and I just wanted to say I was wrong."
Just about when I was ready to believe what Halperin told me, Tom Cardella, my old friend from Temple, heard that a station in Pottstown was looking for somebody to do high school football games every Saturday afternoon. Why not? Let's give it a try. We drove out to Pottstown, another small Pennsylvania town not far from Valley Forge, and met with the owner of WPAZ, Herb Scott. By this time, I had heard "no" so often my confidence was shot. Herb Scott looked at me and said, "I'd give you a shot to do the games, but you look like you might have a nervous breakdown."
On the way home, Tom told me I had to get tougher. I needed to get my confidence back. He said I could do this, but I needed to believe in myself again. That Friday I got a phone call from Herb Scott and he said he couldn't find anyone to do this game. It was either me or dead air. Those were his exact words. So much for the confidence booster I sought. So Tom and I went out that Saturday afternoon and did a Pottsgrove/Springford High School football game and split quarters. Tom did play-by-play and I did color for two quarters and I did play-by-play and Tom did color for two quarters. We made it through, and by the end of the game I felt pretty good again. It was the best I felt since I left college.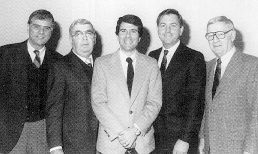 | | | |
| --- | --- | --- |
| | (L to R) WYSP pregame and postgame host Tom Cardella; longtime Philadelphia sportscaster Bill Campbell; me; Dan Baker, Eagles and Phillies public address announcer; and veteran broadcaster Bill Bransome. | |
Rick Friedman, who worked part time at WBCB with me, had gotten a job in the city at WWDB. Rick called me and told me there was an opening and asked if I would be interested. I was, and I was hired. I wasn't there yet, but at least I was nearby. WWDB was an FM station that was in the same building and had the same ownership as another station, WHAT, which was a rhythm and blues station. I would do the news for both stations. It was kind of unique, because I would sit in the same booth and read the news rather conservatively for WWDB, and then without moving, I would read the news with this uptempo style for WHAT.
...
I enjoyed what I was doing. I would get to go to some games. But it appeared that my career had hit its peak. It wasn't my dream, but it wasn't bad. It was broadcasting, but it wasn't play-by-play. Al Shrier, the Temple sports information director whom I remained friends with after I had graduated, called me one day and told me WIP was looking for a summer replacement for Charlie Swift, the Eagles' play-by-play man and the station's sports director. Swift had gotten a lot of vacation time and took it all at once in the summer before the football season started. I figured I had nothing to lose, why not give it a shot?
I called Dean Tyler, who was the program director at WIP, and he set up an interview/audition for me. Dean was honest with me, and told me everyone in the city and some outside of the city wanted this job. WIP was the epitome. I remember when I was in college we used to pretend we were on WIP. That was where you wanted to be. WIP was the New York Yankees. They were the No. 1 station in Philadelphia and had the No. 1 profit margin in the country. It was the big time.
I had my audition, and a few months went by and I didn't hear anything. I figured it was just another rejection. Then around the beginning of April, I got a call from Dean Tyler's secretary asking me if I could come back for a second interview. I did, and again I heard nothing. Finally, around the beginning of June I got another call and I went back for a third time. I was sitting in the lobby when Charlie Swift, himself, walked by. He called me over and started to tell me things like, "Here's where I want my mail. And when you go on at 6:30..." He could probably tell by the puzzled look on my face, but he stopped and said, "Didn't anybody tell you? You got the job."
...
Within the next few weeks, before Charlie got back from vacation, Dean Tyler had asked me if I would be interested in doing the Eagles' pregame and postgame shows. That was like asking a kid if he would like to be locked in a candy store overnight. It took all of about a second for me to say yes.
From Chapter Eighteen
The Boys in the Booth
...
I have been fortunate to have two good producers in my 21 years. Jerry Rosset, my college friend, was my first producer and stayed until 1985 when he decided to go to law school and become an attorney, or as he said," get a real job." Joe McPeak began in 1986 and came with us from WIP to WYSP in 1992. Jerry had a terrible experience at the Meadowlands in a game against the Giants. Keep in mind the producer never sits during a game. He is always up on his feet, pacing behind the air people and the engineers, getting the commercials ready, watching the "redcap" on the field who signals television time outs. There is just a lot for him to do.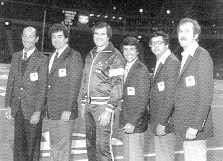 | | | |
| --- | --- | --- |
| | My original Eagles broadcast crew at WIP. (L to R) Statistician Jack Edelstein; color analyst Jim Barniak; Bill Bergey (still in his playing days); me; producer Jerry Rosset; and spotter Bill Werndl. | |
Well as the Giants game started, Jerry turned to me during a break and said, "My hemorrhoids are killing me." I nodded, and thought, What could I do? As the game progressed, so did his pain, and every time I looked at him he appeared to be in worse shape. He made it through the game. We had 90 seconds between the time I gave the final score and when we came back for a post-game wrap. At this point, Jerry could take no more. He screamed, "My hemorrhoids are killing me and Im bleeding profusely." And with that he took off for the mens room. Except he did not take off his headphones.
As I saw him turn and run, I tried to stop him, but it was too late. Jerry reached the end of the booth and everything, all the equipment, about 35 pounds of it, just crashed to the floor. I never saw anything like it. And I never saw everyone put it back together so quickly. We had it all back and ready to go with three seconds to spare before we went back on the air.
---