Bill Seibel

Retired SCAT Professor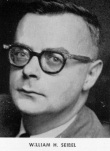 On Wednesday, January 20, 1999, Gerry Wilkinson had lunch with John Roberts and Bill Seibel at the Broadcast Pioneers meeting. Read some of Gerry's thoughts and observations.

The following is written by Gerry Wilkinson....His voice was the same. When he said "hello," I pictured him with his short, almost crew cut-like hair style and dark rimmed glasses, full of life. I wondered if he was wearing a bow-tie. While I never did find out if his hair style changed, I could quite easily tell that he seemed in good spirits.

Bill Seibel was on the Temple University faculty for many years. From 1955 to 1962, he was the faculty advisor to the station. Sometimes in the program guide, his title was given as Station Operations Manager.

In the Summer 1965 issue of the Temple (Alumni) Review, there was an article written by Jay Strassberg (BS '61) and at that time the TU Coordinator for Radio-TV Relations, Office of Public Affairs. The piece says in part....
"When the University established the Office of Instructional Television (ITV) in 1961..., Temple was the first educational institution in the Delaware Valley to utilize the electronic teaching medium.

Director of the ITV office is William H. Seibel, a veteran broadcaster, educator, and a member of the Department of Communications faculty. Under Seibel's leadership, ITV has expanded rapidly in order to keep pace with the constantly increasing demands being made of it.

....The closed-circuit course offerings are broadcast during two of the three hour-long class meetings a week....Previosuly located in Barton Hall, the ITV studio was moved this summer to new and larger quarters in recently completed Ritter Hall, the College of Education building. 15 classrooms in Ritter Hall are equipped with ITV monitors, and nearly every classroom and laboratory in the new structure is easily adaptable as a receiving and/or transmitting point for ITV...."
The article also mentioned that Professor John Roberts taught his Communications 43 class via ITV. Sometime in the future, we plan to upload the entire article on to our site.

In a 1958 issue of the WRTI Program Guide, Bill Seibel writes, "...As Operations Manager of WRTI, the Temple University owned educational FM radio station, I am happy to announce that our station is actively engaged in the production of educational radio programs that promise to appeal to a varied audience.... It is indeed a happy omen that over 38% of the people in Philadelphia and vicinity own FM sets -- a point which substantiates the fact that the American listening public is becoming more discriminating in its habits. If I may humbly insert a plug, you will find the "different" program on WRTI-FM this semester and the ones to come. The educational program has rightfully found its place in the sun and the WRTI student staff and faculty will make every attempt to keep it there. "Get what you want," cried Bernard Shaw, "or you will be forced to like what you get." Shortly we plan to upload this entire article, also.

We chatted a little bit about the old WRTI & SCAT. He gave me some names of old alumni and said he would see if he had any WRTI photos or material. Mr. Seibel has not seen our site as it does not have an Internet connection. In fact, he didn't even say if he had a computer.

When invited to our WRTI Reunion/BBQ on May 24, 1998, he said that he would try to make it. However, there is a possibility that relatives from "down South" are coming in. I spoke to Bill Seibel via telephone on Friday, April 24, 1998.
From Chuck Sherman....I talked with Bill Seibel yesterday, and he is as funny and sarcastic as ever. He is off to Spain in June. We get to see each other in Philadelphia and Washington, and I always give him a lot of credit for encouraging me to get a PhD.... We were all fortunate to have professors like John, Del, Bill, and Lew who gave us a love for our profession as well as a sense of what public service means.

In the 1958 Templar yearbook, in the section listing the faculty for the School of Theology, guess who was listed and pictured with all the ministers? You got it, WRTI's own faculty advisor for the time, Bill Seibel. Where all the other professors list their names and specialty (Rev. John Doe, Middle East expert), Bill's caption said, "Bill Seibel, Radio & Television." Maybe he was there to help the future TV ministers???

Most likely what had happened was that everyone who was on the faculty that were photographed in Thomas Hall were with the School of Theology except Seibel. He was in the basement with WRTI. Obviously, the Templar didn't know that and assumed he was with the Theology people.

Bruce Smallwood when he lived at 40th and Chestnut, resided next to the Radio Church of God. Maybe they got their start with Rev. Seibel.

This is the WRTI Old Gang Web Site